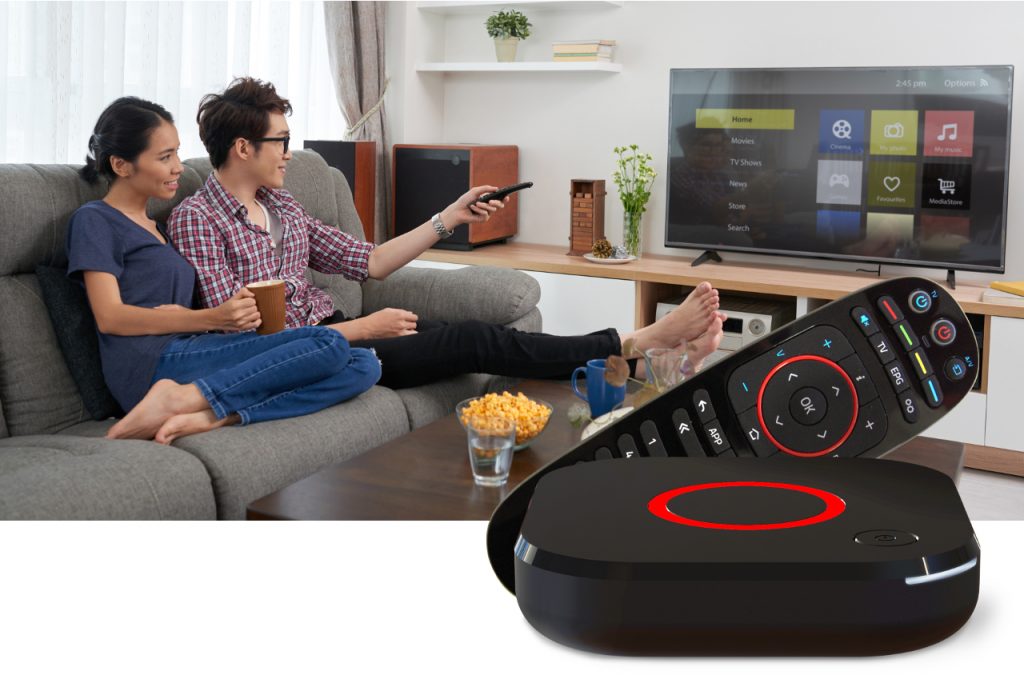 TV via bredbandsnätet
I de flesta områden kan du ta emot TV-kanaler via bredbandskabeln. Allt du behöver är en IPTV-box som du köper för endast 7 800 baht och enkelt kopplar in mellan din TV och bredbandsroutern. Baskanalerna kostar ingenting extra, de ingår redan i ditt abonnemang!
Vår populära tjänst med TV-kanaler och delad filserver har nu förbättrats ytterligare med två nya TV-boxar;
Den nya standardboxen stöder HD-video, och kan också anslutas via WiFi på platser där du inte kan dra en nätverkskabel till din TV.
Den andra boxen är för den lite mer avancerade användaren; Den använder Android, så att du kan installera Android-appar på samma sätt som på din telefon (TV-kanaler, spel etc.), och den har också en inbyggd Google Chromecast så att du kan projicera skärmen från din dator eller mobil på TVn.
Baskanaler
Följande innehåll är för närvarande tillgängligt utan extra kostnad (med reservation för ändringar baserat på tillgänglighet):
Thai TV
PBS HD, Channel 3 HD, Channel 8, TV5 HD, TNN 24, Workpoint TV, True 4U, One HD, Channel 7, New TV, Nation TV, GMM channel, Mono/29, Amarin TV HD, PPTV HD, Thairath HD
Internationell TV
NBT World ("Thailand in English"), Channel NewsAsia, EuroNews English, EuroNews Deutsch, EuroNews русский, Deutsche Welle, Deutsche Welle English, France24 Français, France24 English, Al Jazeera International, CCTV China, Phoenix InfoNews, Phoenix Chinese, Phoenix Hong Kong, TVB News Hong Kong, NHK World Japan, TRT World Turkey, Russia Today, РТР-Планета, Mir TV, B4U Movies India, B4U Music India, Golf News, Cycling News, SVT Sverige (utvalda program från igår), TV4 Sverige (utvalda program från igår), National Geographic Videos, Discovery Network Videos, Animal Planet Videos, JFL Standup, JFL Gags, Cartoon Network Videos, Cartoon Network Sverige Videos, Disney Channel Videos, Disney Channel Sverige Videos, Nickelodeon Videos, Best of Rock, Best of Pop, Best of Country
Radio
BBC (8), Sveriges Radio (30+), Danmarks Radio (20+), NRK (20+), Yle (5), Berliner Rundfunk, Defjay, Antenne Bayern (3), Deluxe (5)
Premium kanaler

Utöver baskanalerna kan du lägga till valfri av följande kanaler till ditt abonnemang.
Välj pris för en månad eller ett år.
| | | | |
| --- | --- | --- | --- |
| Kanal | Enstaka kanal pris per månad | Enstaka kanal pris per år | Kanalpaket pris per månad |
| True Premier Football 1 | 260 | 2820 | 5 fotbollskanaler: 480 |
| True Premier Football 2 | 260 | 2820 | — |
| True Premier Football 3 | 65 | 710 | — |
| True Premier Football 4 | 65 | 710 | — |
| True Premier Football 5 | 65 | 710 | — |
| NFL Network | 65 | 710 | 3 sportkanaler: 200 |
| Motor Vision | 40 | 430 | — |
| True Tennis | 110 | 1210 | — |
| CNN International | 390 | 4300 | 3 nyhetskanaler: 450 |
| BBC World | 60 | 640 | — |
| Bloomberg News | 30 | 280 | — |
TrueVisions TV-guide: http://truevisionsgroup.truecorp.co.th/tvguide
Beställ TV-kanaler
Back